Admixtures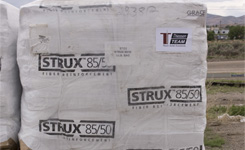 Accelerants
Water Reducers
ZYLAR
High Range Water Reducers
Structural Poly Fiber
Structural Steel Fiber

Accelerants
WCA200
A liquid shotcrete chemical bonding additive for use with wet or dry shotcrete mixtures.
Water Reducers
WRDA®64
A polymer based aqueous solution of complex organic compounds producing a concrete with lower water content (typically 8-10% reduction), greater plasticity and higher strength. Used in ready mix, job site and concrete paver plants; for normal and lightweight concrete; and in block, precast and prestress work. Offers significant advantages over single component water reducers. Performs especially well in concrete containing fly ash and other pozzolans.
ZYLA®R
A ready-to-use aqueous solution of organic compounds specifically designed as an admixture for Portland cement concrete. The ingredients are factory pre-mixed in exact proportions under strict quality control to provide uniform results. ZYLA R is used to retard the initial and final set of concrete. Along with set retardation, ZYLA R typically provides 5% water reduction in a concrete.
High Range Water Reducers
Daracem®100
A liquid admixture providing improved slump retention in flowing concrete. Ideal for low water/cement ratio concrete.
Daracem®19
A liquid admixture for all applications that require highly flowable concrete where it is desirable to keep the water/cement ratio to a minimum while still achieving the degree of workability needed to provide easy placement, consolidation and high-early stripping strengths.
Structural Poly Fiber
STRUX®85/50 Synthetic Macro Fiber Reinforcement
STRUX®85/50 synthetic macro fiber reinforcement is a unique form of high strength, high modulus synthetic macro reinforcement that is distributed throughout the concrete matrix.
Structural Steel Fiber
DRAMIX®ZP 305 Steel Fiber
Dra mix® ZP 305 is a cold drawn wire fibre, deformed and cut to lengths with hooked ends and glued in bundles for reinforcement of concrete and shotcrete.