Shotcrete Equipment
Jump to:
Dry Shotcreting
Thiessen Team Predampener
Aliva® Dry Machines - New Models
Aliva® Dry Machines - Superseded Models
Dry Spray Systems
Dry Shotcreting
Aliva shotcrete pumps are considered some of the most dependant pumps in the construction and mining industries. Built to meet the rigors of the most demanding conditions, an Aliva shotcrete pump should be on the top of your list when dry shotcreting methods are preferred. Boom placers are also available. The Aliva 302 can be a standalone boom unit or integrated into a mobile piece of equipment to make your shotcreting program fully self contained.
Adding to an already capable line of dry shotcrete pumps, Thiessen Team created the Pre-dampening unit. This unit is purposely built for the underground workspace where dust in confined spaces is an issue.
Thiessen Team has you completely covered for your Aliva needs from equipment and spares - to advice and experience.
Thiessen Team Predampener

Power Options - Electric
5 HP helical snuggler gear motor to mix auger.
3 HP variable speed motor to cross feed auger.
Centrally mounted electrical control panels.
Power Options - Pneumatic
2-in filter / regulator / lubricator system.
12 HP vane motor, helical worm gear reducer to mix auger.
7 HP vane motor, helical shaft mount reducer to feed auger.
Aliva® Dry Machines - New Models
Aliva®-237 Concrete Spraying Machine (PDF 195KB)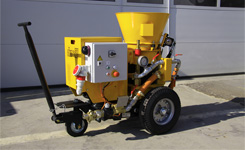 Description
The Aliva-237 is a sturdy concrete spraying machine for wet and dry spraying process.
Uses
Thanks to its variable output, the Aliva-237 can be used for small jobs, such as joint filling, as well as for extensive slope consolidation work.
The Aliva-237 is available in the following versions:
STANDARD
Electric drive, single speed
Electric drive, with FC for variable rotor speed
With air drive, variable rotor speed
Aliva®-257 Concrete Spraying Machine (PDF 1MB)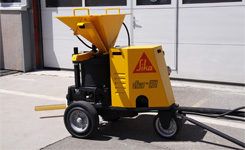 Dry- and Wet Shotcrete
With the newly developed, universal AL-257, dry and wet Shotcrete are equally possible. No changing on the machine from dry to wet shotcrete has to be performed. For changing from wet to dry shotcrete, the machine has to be cleaned and dried up. The integrated exhaust system and a newly designed hopper allow a high filling degree of the rotor chambers, which leads to low pulsation and less rebound.
Application and conveying capacity
With a weight of just 750 kg and compact measurements, the AL-257 fits on every site, is easy to handle around and adjusts itself to every application. With a huge spectrum of conveying capacity from 0.7-9.6 m3/h, there is no work which could not be conducted economically. For thin layer concrete renovation with the 2.5l rotor up to slope protection of an excavation with the 12l rotor, with the AL-257, one always has the right equipment at hand.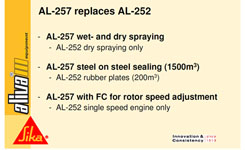 Aliva®-267 Concrete Spraying Machine (PDF 483KB)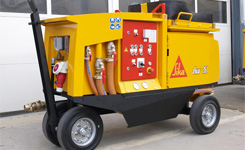 Application
The AL-267 is a multi-functional machine for wet and dry application of sprayed concrete in the thin steam method. The modular construction allows the right type for all requirements. With an output capacity of 4-21 m3/h the range of applications covers: Excavation-protection, rock stabilization, slope protection, swimming pool construction, hydropower projects, tunneling, mining, etc. Easy handling, flexibility and functionality are unique for the AL-267.
Aliva® Dry Machines - Superseded Models (used machines and parts only)
Aliva® -252/262 250/260 (PDF 137KB)
Dry Spray Systems
Aliva®-302.1 Telescope Spraying Arm (PDF 315KB)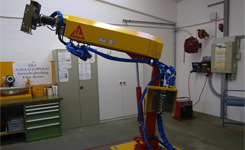 For mining and small tunnels.
Modular concept.
Air, electric, diesel driven.
Simple mounting on to carriers.
Wet or dry applications.
Impressive application reach of 24' vertical and 21' horizontal.
The telescope spraying arm AL-302 has been designed especially for mines, small galleries and excavations. Owing to its simple and rigid construction, it is most suitable for mounting on to different carriers or used as a stand alone unit on a skid plate or fork pocket frame.
Aliva®--503 Mini concrete spraying system (PDF 291KB)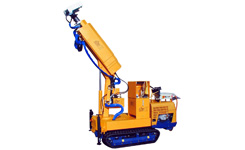 For mining and small tunnels
Modular Concept
Air, electric, diesel driven
Very flexible concrete spraying
The mini concrete spraying system AL-503 is a handy mechanized concrete spraying tool, especially designed for mines, small stopes and pits. The unit consists of the telescope spraying arm AL-302 mounted on a tracked carrier. For flame proof operation, the diesel motor of the carrier is replaced by an air motor.