Community
SANDI'S VILLAGE PROVIDES HOPE FOR CHILDREN IN DESPAIR
I recently returned from our annual trip to Uganda. I was in Southern Uganda touring through and visiting various facilities of Childcare Worldwide.
After spending three nights on Bugala Island, which is located on Lake Victoria, I travelled to Masaka. It was during this portion of the trip that I met Annette, Maureen and Emanuel, aged 15, 13 and 10. Nothing unusual here...except these three had been living alone for 5 years without either parent! Their father had died two years after the youngest was born. Their mother died a few years later when Annette was only 10.
This photo shows the "family" house that the children lived in for those five years.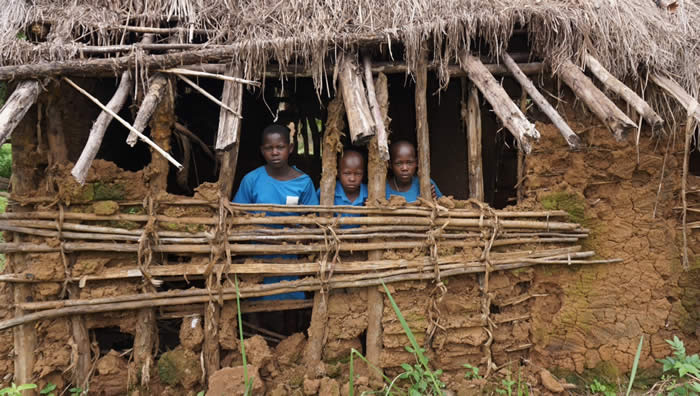 How Annette managed to care for her two siblings is nothing short of miraculous...I was told a few of their stories of hardship which left me in shock.
Childcare Worldwide only recently became aware of these children. We immediately began the process of relocating them to Sandi's Village on Bugala Island.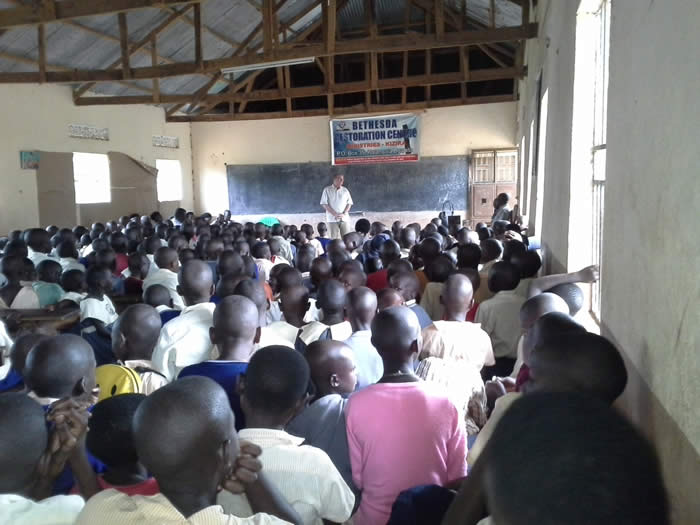 There are 400 Childcare Children living here at Sandi's Village. Along with the children's village, there is a school and medical clinic staffed by a registered nurse 24/7. Soon after the children arrived, it was discovered that Annette had Malaria, which was treated at the Village Clinic. All three children also had a number of foot related issues, due to not wearing any sort of shoes, which have since been treated.
They are enjoying their new life here in this safe, loving environment.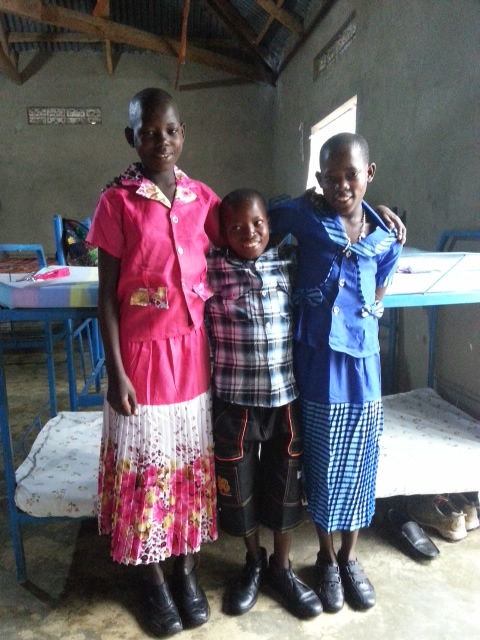 All of these children are in need of sponsorship. If you feel compelled to help and sponsor one or all three of these kids, the cost is $38.00 per month, per child. Contact www.childcareworldwide.org.
Below you will see a photo of our newest family members. The oldest is Emma (Emanuel) and the little fellow with no left foot is Erik. Emma was born with severe Club Feet. At the age of six, Emma was taken to a hospital in Entebbe, where doctors worked on him over a six month period to correct his Club Feet.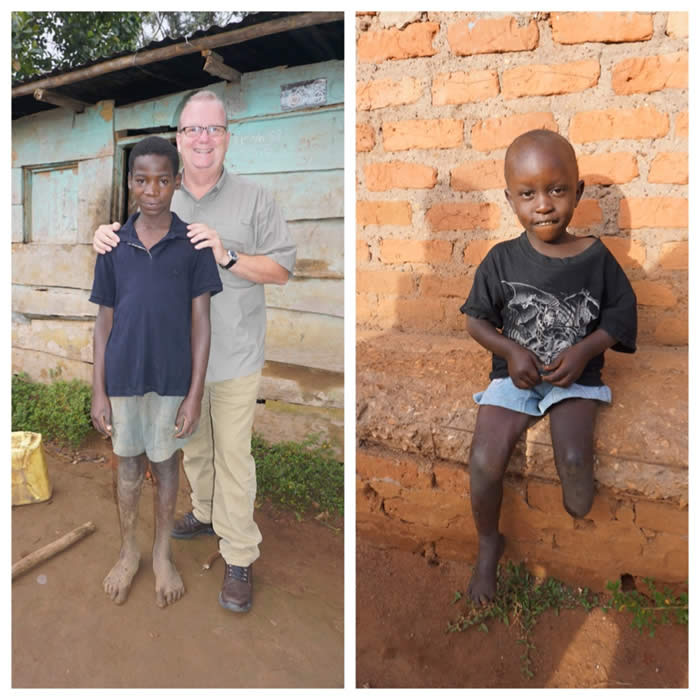 Erik's story is a little more tragic. Born with no lower calf and foot below the left knee, Erik's father immediately gave an ultimatum to his wife..."I don't make junk, take the child away and dispose of it, or I will leave you forever." The wife said goodbye to her husband and chose to be a mother, to raise and love her son Erik.
Both of these boys have survived and thrived due to the work of Childcare Worldwide and specifically, in their cases, the "Starfish Fund." This Childcare Worldwide progam (that people donate to), provided the funds for Emma to have his Club Feet corrected, and it also provided funds for Erik's doctors and his prosthetics (Erik is currently on his third prosthetic).
-Sandi & Lawrence
Our Involvement with Childcare Worldwide
THIESSEN TEAM STAFF PURCHASES 'AMBULANCE' FOR UGANDA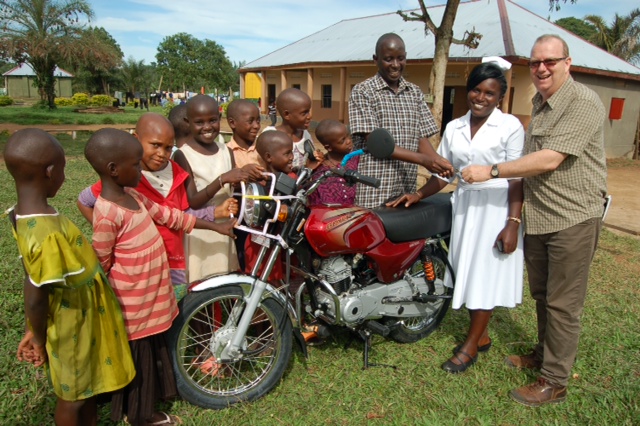 Since 2007, Lawrence & Sandi continue to travel on behalf of Childcare Worldwide, primarily to Kenya and Uganda. Once, over a 10-month period, Lawrence travelled to Africa 3 times due to the feeding crisis along the Somalia/Kenya border, at the world's largest refugee camp.
While the need is huge and at time seems overwhelming, we continue to do what we can, "one child at a time."
Above is a photo from my Spring 2013 trip, where I presented the keys to a motorcycle to the nurse at Sandi's Village, located on Bugala Island. This Childcare Worldwide Village is home to over 400 children. Due to impassable roads during the rainy season, a motorcycle is the only machine that can transport a sick child to the local hospital, a 45-minute drive away.
Message from Lawrence & Sandi Thiessen

It was during an early trip to Africa in 1999 that I became aware of the huge needs that people in most all parts of Africa suffer from. We had all heard of the starving, drought besieged Ethiopians many years earlier, then the AIDS epidemic that swept through all of Africa... but the problem was so large what difference could one or two persons make... so I did nothing.

Then in 2007 my wife Sandi & I joined the advisory board of Childcare, later that year I made my first trip to Kenya and Uganda on what I thought was a fact finding trip. What it turned out to be was so much more.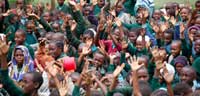 What I saw were thousands of children being helped to "Survive and Succeed", first through secure care, food, medicines and then through education.

I saw how much difference the $40.00 per month made on so many of these Childcare children. I saw the passion that the staff in these countries has for these children; we have not looked back...
MINING FOR MIRACLES
THIESSEN TEAM RAISES FUNDS FOR BC CHILDREN'S HOSPITAL
Thiessen Team was one of 24 organizations involved in raising funds for this year's Mining for Miracles campaign for BC Children's Hospital in Vancouver. Each organization had an individual (called a Pie-ee) appointed to set out to raise funds for the campaign and compete against one or more of the other fundraisers. The 'winner' of the contest gets to throw a pie in the face of the other poor soul at the annual Teck Celebrity Pie Throw!
The 2018 Pie Throw took place on Thursday May 24, 2018 at the Vancouver Art Gallery.During Pie Throw, participants toss the world's most expensive cream pies in the faces of mining industry leaders, all in support of BC's sick and injured children.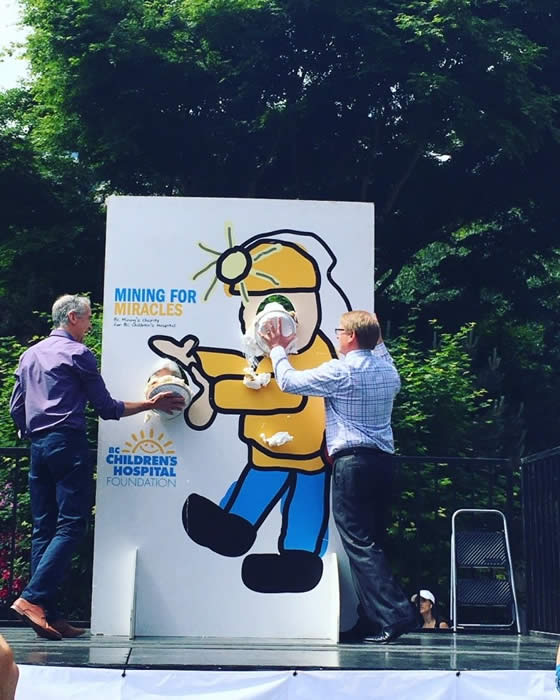 Scott Trainor from Thiessen Team was the Pie-ee participant from Thiessen Team. This year Thiessen Team matched all donations raised by Scott. Including matching funds, a grand total of $191,270 was raised and Scott was able to avoid getting pied! Here is Scott getting to throw a pie at Edie Thome from the Association of Mineral Exploration, along with Brent Davis from Finning throwing a pie at Bryan Cox, Mining Association of BC.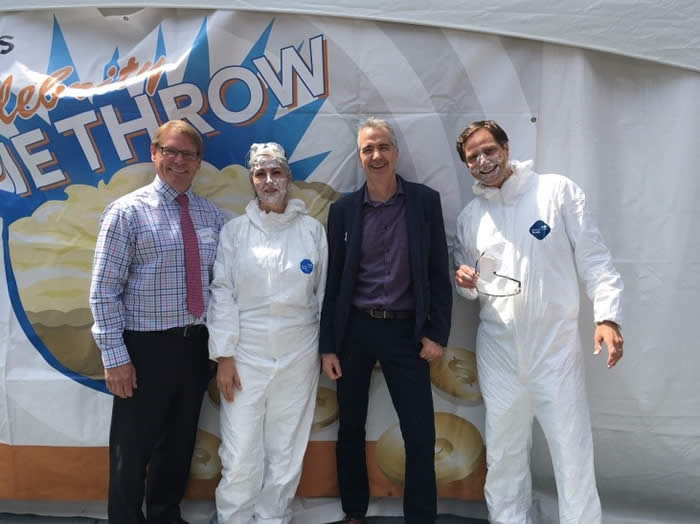 One hundred per cent of all funds raised as part of the Pie Throw goes to support thedevelopment of the Transplantation & Cell Therapy Program (TRACE), the first of its kind in Canada. This year's campaign raised $1.6 million to support the development of TRACE. TRACE will work towards providing children across British Columbia with personalized medicine using the patient's own cells to prevent rejection of organ transplants, kill cancer cells and fight infection.Learn more atwww.miningformiracles.ca.